AKTIVITAS PEMULIAAN TANAMAN DALAM PERAKITAN KLON KARET UNGGUL DI INDIA
Keywords:
Hevea brasiliensis, pemuliaan, seleksi, klon unggul, India
Abstract
India merupakan salah satu negara penghasil karet alam di dunia. Rubber Research Institute of India (RRII) terus berusaha meningkatkan produksi karet nasional antara lain melalui peningkatan produktivitas klon. Kegiatan pemuliaan dan seleksi di lembaga penelitian ini telah dilakukan sejak tahun 1954. Beberapa kegiatan pemuliaan tanaman yang telah dan sedang dilakukan adalah hibridisasi dari tetua unggul populasi Wickham 1876, seleksi ortet dan tanaman hasil hibridisasi, pengujian genotipe unggul, identifikasi klon berdasarkan morfologi, studi propagasi tanaman, pembangunan kebun biji, studi genetika dan biologi tanaman, dan evaluasi klon-klon karet hasil introduksi. Pemanfaatan  plasma nutfah karet hasil  koleksi IRRDB 1981 juga menjadi kegiatan penting di lembaga penelitian ini. Hasil evaluasi dari koleksi IRRDB 1981 menunjukkan bahwa beberapa genotipe hasil seleksi memiliki pertumbuhan tanaman jagur, ketahanan biotik dan abiotik yang cukup baik seperti resisten terhadap penyakit daun, toleran terhadap cekaman  suhu dingin dan kekeringan. Dari hasil pengujian klon RRII seri 400 menunjukkan bahwa  klon RRII 422 dan RRII 430 memiliki potensi hasil lateks paling tinggi > 50 g/p/s. Klon tersebut juga tergolong cukup resisten terhadap penyakit daun.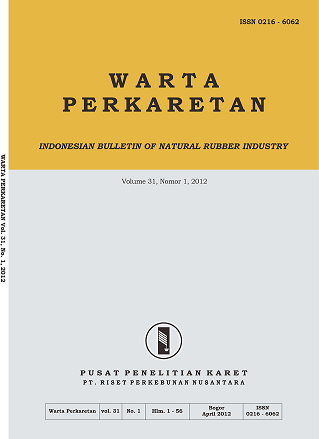 Downloads
License
Copyright (c) 2016 Warta Perkaretan
This work is licensed under a Creative Commons Attribution-NonCommercial-ShareAlike 4.0 International License.
Submission of a original research or review articles in Warta Perkaretan implies that the submitted  manuscript has not been published in any scientific journal (except being part of the abstract, thesis, or report). The submitted manuscript also is not under consideration for publication elsewhere. All co-authors involve in the publication of the manuscript should give their approval. Once, the manuscript is accepted and then published in Warta Perkaretan, the Author(s) keep hold the copyright and retain publishing right without restrictions. Author(s) and Warta Perkaretan users are allowed to multiply the published manuscript as long as not for commercial purposes. The journal users are also permissible to share the published manuscript with an acknowledgement to the Author(s). The Editorial Boards suggest that the Authors should manage patent before publishing their new inventions.