PERAN MIKROBA ENDOFITIK PADA BIJI KARET (Hevea Brasiliensis) TERHADAP PERKECAMBAHAN DAN PERTUMBUHAN AWAL TANAMAN
Abstract
Perkecambahan dan pertumbuhan awal biji karet bervariasi dipengaruhi oleh tingkat viabilitas biji. Mikroba endofitik diduga berperan penting dalam menjaga viabilitas karet. Penelitian ini bertujuan untuk menguji spesies-spesies mikroba endofitik di dalam biji karet viabilitas tinggi (vigor) maupun biji viabilitas rendah (kurang vigor) perannya dalam pertumbuhan biji karet. Penelitian ini menggunakan Rancangan Acak Lengkap (RAL) non faktorial dengan tujuh perlakuan dan lima ulangan. Hasil penelitian menunjukkan bahwa empat spesies jamur Trichoderma viridae, Trichoderma koninggi, Aspergillus flavus dari biji vigor tinggi mampu menekan pertumbuhan Penicillium sp dari biji kurang vigor yang merupakan satu-satunya mikroba yang dapat diisolasi. T viridae, T. koninggi dan A. flavus menghambat pertumbuhan Penicillium sp. secara in vitro. Aplikasi masing-masing jamur tersebut mempercepat masa perkecambahan biji karet, pertumbuhan tanaman dan mempengaruhi arsitektur akar tanaman karet.
Kata kunci: Hevea brasiliensis, mikroba endofitik, perkecambahan biji.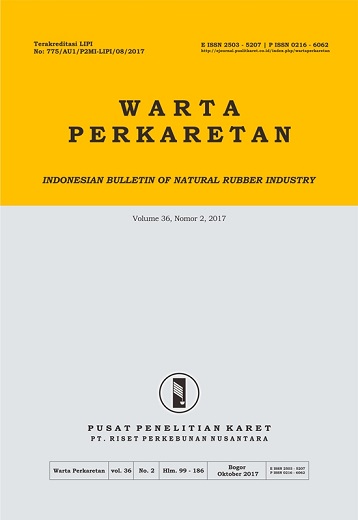 Downloads
Section
Original Research Article
License
Submission of a original research or review articles in Warta Perkaretan implies that the submitted  manuscript has not been published in any scientific journal (except being part of the abstract, thesis, or report). The submitted manuscript also is not under consideration for publication elsewhere. All co-authors involve in the publication of the manuscript should give their approval. Once, the manuscript is accepted and then published in Warta Perkaretan, the Author(s) keep hold the copyright and retain publishing right without restrictions. Author(s) and Warta Perkaretan users are allowed to multiply the published manuscript as long as not for commercial purposes. The journal users are also permissible to share the published manuscript with an acknowledgement to the Author(s). The Editorial Boards suggest that the Authors should manage patent before publishing their new inventions.