PERAN UNSUR MIKRO BAGI TANAMAN KARET
Keywords:
pemupukan, unsur mikro, tanaman karet
Abstract
Pemupukan merupakan kegiatan penting bagi perkebunan karet. Beberapa penelitian menunjukkan bahwa pemupukan pada tanaman karet berpengaruh pada pertumbuhan, status hara, peningkatan produksi dan ketahanan terhadap penyakit. Pemupukan yang intensif pada masa tanaman belum menghasilkan karet akan meningkatkan ''nutrient bank", sehingga setidaknya beberapa tahun setelah tanaman masuk ke tahap tanaman menghasilkan, pemupukan dapat diminimalkan sepanjang status hara yang tinggi dapat dipertahankan. Namun demikian, umumnya kegiatan pemupukan tanaman karet hanya mempertimbangkan unsur makro saja (N, P, K, Ca, dan Mg) sehingga mulai gejala defisiensi unsur mikro (B, Cu, Zn, Mn, Mo, dan Fe) terlihat di beberapa perkebunan karet setelah beberapa kali siklus penanaman karet.Selain itu, sistem manajemen budidaya perkebunan karet untuk beberapa dekade terakhir ini seperti penggunaan klon-klon unggul, penerapan tanaman sela diantara tanaman karet dan lahan yang telah digunakam beberapa kali siklus penanaman karet juga ikut menjadi penyebab terjadi defisiensi unsur mikro. Tulisan ini bertujuan untuk mengkaji peran penting unsur mikro pada pertumbuhan karet dan bagaimana gejala defisiensi unsur mikro yang terjadi di perkebunan karet.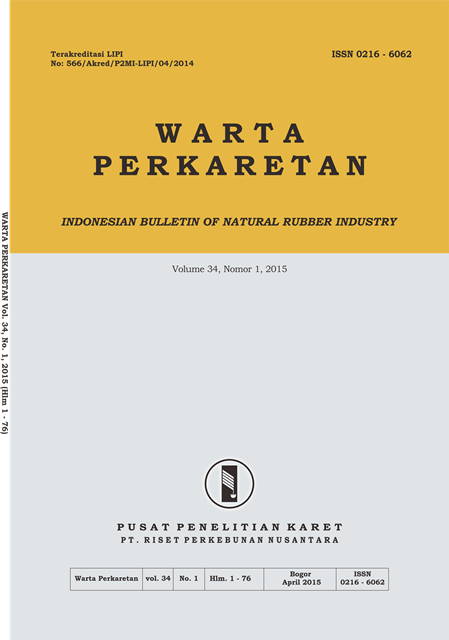 Downloads
License
Submission of a original research or review articles in Warta Perkaretan implies that the submitted  manuscript has not been published in any scientific journal (except being part of the abstract, thesis, or report). The submitted manuscript also is not under consideration for publication elsewhere. All co-authors involve in the publication of the manuscript should give their approval. Once, the manuscript is accepted and then published in Warta Perkaretan, the Author(s) keep hold the copyright and retain publishing right without restrictions. Author(s) and Warta Perkaretan users are allowed to multiply the published manuscript as long as not for commercial purposes. The journal users are also permissible to share the published manuscript with an acknowledgement to the Author(s). The Editorial Boards suggest that the Authors should manage patent before publishing their new inventions.