TEKNOLOGI DAN ANALISIS USAHATANI KOPI SEBAGAI TANAMAN SELA DI PERKEBUNAN KARET
Keywords:
tumpang sari, jarak tanam ganda, tanaman sela, kopi, karet
Abstract
Pendapatan rumah tangga petani karet saat ini sedang menurun. Hal ini berdampak pada rendahnya daya beli, kemampuan menabung, pembentukan modal usaha tani, tingkat kesehatan dan pendidikan keluarga petani karet. Petani memerlukan pendapatan yang relatif stabil sepanjang siklus penanaman karet. Petani saat ini dapat menanam tanaman sela diantara tanaman karet. Tanaman kopi (Coffea canephora) dapat menjadi opsi tanaman sela diantara tanaman karet (Hevea brasiliensis). Penanaman tanaman sela perlu mempertimbangkan faktor kompetisi antar komoditi sehingga diperlukan penyesuaian jarak tanam. Jarak tanam yang digunakan adalah jarak tanam ganda (JG) 19 m + (4 m x 2 m) dengan populasi karet 435 pohon/ha. Kopi ditanam diantara jarak tanam lebar dengan jarak tanam 2 m x 2 m dan jarak antara tanaman kopi dan karet adalah 5 m. Kajian ini ditulis dengan metode studi pustaka dengan mengumpulkan data sekunder dari buku, jurnal dan penelitian yang sudah pernah dilakukan sebelumnya. Hasil analisis pendapatan usaha tani tumpang sari tanaman karet dan kopi menunjukkan hasil positif. Pendapatan usaha tani karet monokultur sebesar Rp9.717.159,52 per tahun per hektar, sementara rata-rata pendapatan untuk usaha tani kopi sebagai tanaman sela sebesar Rp38.814.285 per tahun per hektar dan rata-rata penerimaan usaha tani karet dan kopi sistem JG sebesar Rp48.531.444. Nilai NPV sistem karet monokultur layak pada tingkat bunga investasi 5%, masing-masing sebesar Rp5,603,746,- untuk sistem jarak tunggal (JT) dan Rp2.819.424,- untuk sistem jarak ganda (JG).
References
Androcioli, H. G., Hoshino, A. T., Morais, H., Bianco, R., & Caramori, P. H. (2018). Coffe leaf miner incidence and its predation by wasp in coffee intercropped with rubber trees. Coffee Science, 13(3), 389–400.
Cahyo, A. N., & Amypalupy, K. (2018). Pembuatan Bahan Tanam. In Saptabina Usahatani Karet Rakyat (hal. 23-32). Pusat Penelitian Karet Sembawa, Sembawa.
Direktorat Jenderal Perkebunan. (2014a). Pedoman Budidaya Karet (Hevea Brasililensis) yang Baik. Jakarta, Indonesia: Kementerian Pertanian, Direktorat Jenderal Perkebunan.
Direktorat Jenderal Perkebunan. (2014b). Pedoman Teknis Budidaya Kopi yang Baik. Jakarta, Indonesia : Direktorat Jenderal Perkebunan, Kementerian Pertanian.
Goh, H. H., Tan, K. L., Khor, C. Y., & Ng, S. L. (2016). Volatility and market risk of rubber price in malaysia : pre- and post-global financial crisis. Journal of Quantitive Economics, 323-344.
Häuser, I., Thellmann, K., Cotter, M., & Sauerborn, J. (2015). Ecosystem services and biodiversity of rubber plantations—A systematic review. CABI Reviews, 10(037), 1–6. doi :org/10.1079/PAVSNNR201510037.
Hougni, D. G. J. M., Chambon, B., Penot, E., & Promkhambut, A. (2018). The household economics of rubber intercropping during the immature period in Northeast Thailand. Journal of Sustainable Forestry, 37(8), 787–803. doi : org/10.1080/10549811.2018.1486716.
Huang, J., Pan, J., Zhou, L., Zheng, D., Yuan, S., Chen, J., Li, J., Gui, Q., & Lin, W. (2020). An improved double-row rubber (Hevea brasiliensis) plantation system increases land use efficiency by allowing intercropping with yam bean, common bean, soybean, peanut, and coffee: A 17-year case study on Hainan Island, China. Journal of Cleaner Production, 263, 121493. doi : org/10.1016/j.jclepro.2020.121493.
Ismail, M., & Supijatno. (2016). Penyadapan tanaman karet (Hevea brasiliensis Muell Arg.) di kebun Sumber Tengah Jember, Jawa Timur. Buletin Agrohorti, 4(3), 257–265.
Jones, W.I., & Egli, R. (1984). Farming systems in Africa, World Bank Paper. Number 27.
Kusuma, P. T. W. W. (2012). Analisis kelayakan finansial pengembangan usaha kecil menengah (ukm) nata de coco di Sumedang, Jawa Barat. Jurnal Inovasi dan Kewirausahaan. 113-120.
Langenberger, G., Cadisch, G., Martin, K., Min, S., & Waibel, H. (2017). Rubber intercropping: A viable concept for the 21st century?. Agroforestry Systems, 91(3), 577–596. doi : org/10.1007/s10457-016-9961-8.
Manurung, L., Lubis, L., Marheni., & Dalimunthe, C. I. (2015). Pengujian berbagai jenis bahan aktif terhadap penyakit jamur akar putih (jap) (rigidoporus microporus (swartz: fr.)) di areal tanpa olah tanah (tot). Jurnal Online Agroekoteknologi, 168-178.
Norman, D. W., & Gilbert, E. (1983). A General Overview of Farming Sytems Research. In W.W. Shaner., P.F. Philipp., and W. R. Schimehl (Ed.). Readings in Farming Sytems Research and Development (pp. 18-34). Oxfordshire, UK : Routledge.
Pansak, W. (2015). Assessing rubber intercropping strategies in northern thailand using the water, nutrient, light capture in agroforestry systems model. Kasetsart Journal of Natural Science, 49, 785–794.
Pusat Penelitian dan Pengembangan Perkebunan. (2010). Budidaya dan pasca panen kopi. Jakarta, Indonesia : Eska Media.
Prawirokusumo, S. 1990. Ilmu Usahatani. Yogyakarta, Indonesia : BIEP.
Rajasekharan, P., & Veeraputhran, S. (2002). Adoption of intercropping in rubber smallholdings in Kerala, India: A tobit analysis. Agroforestry Systems, 56, 1–11.
Raintree, J. (2005). Intercropping with rubber for risk management, improving livelihoods in the Lao PDR. Agriculture and Forestry Research, 2, 41-46.
Righi, C. A., & Bernardes, M. S. (2007). The potential for increasing rubber production by matching tapping intensity to leaf area index. Agroforestry Systems, 72(1), 1–13. doi : org/10.1007/s10457-007-9092-3.
Rodrigo, V. H. L., Stirling, C. M., Teklehaimanot, Z., & Nugawela, A. (2001). Intercropping with banana to improve fractional interception and radiation-use efficiency of immature rubber plantations. Field Crops Research, 69, 237–249.
Rodrigo, V., Silva, T., & Munasinghe, E. (2004). Improving the spatial arrangement of planting rubber (Hevea brasiliensis Muell Arg.) for long-term intercropping. Field Crops Research, 89(2-3), 327-335.
Rosyid, M., Wibawa, G., & Junaedi, U. (1995). Tanaman sela kopi di perkebunan karet. Warta Pusat Penelitian Karet, 14(2), 89-101.
Sahuri. (2019). Teknologi tumpangsari karet-tanaman pangan: kendala dan peluang pengembangan berkelanjutan. Jurnal Penelitian dan Pengembangan Pertanian, 38(1), 23-34.
Sahuri. (2017a). Pengaturan pola tanam karet (Hevea brasiliensis Muell Arg.) untuk tumpang sari jangka panjang. Jurnal Ilmu Pertanian Indonesia, 22(1), 46-51.
Sahuri. (2017b). Uji adaptasi sorgum manis sebagai tanaman sela di antara tanaman karet belum menghasilkan. Jurnal Penelitian Karet, 35(1), 23–38.
Sahuri. (2017c). Peningkatan produktivitas lahan dan pendapatan petani melalui tanaman sela pangan berbasis karet. Jurnal Lahan Suboptimal 6(1), 33–42.
Sahuri., & Rosyid, M. J. (2015). Analisis usahatani dan optimalisasi pemanfaatan gawangan karet menggunakan cabai rawit sebagai tanaman sela. Warta Perkaretan 34(2), 77-88.
Sahuri., Cahyo, A. N., & Nugraha, I. S. (2016a). Pola tumpangsari karet-padi gogo sawah pada tingkat petani di lahan pasang surut, Sumatera Selatan. Warta Perkaretan 35(2), 107–120.
Sahuri., Rosyid, M. J., & Agustina, D. S. (2016b, Oktober) . Development of wide row spacing to increase land productivity of rubber plantation. Tulisan disajikan dalam CRRI & IRRDB International Rubber Conference, Siem Reap.
Sahuri., Tistama, R., Erdiansyah, N. P., Prawoto, A., & Hartatri, D. F. (2020). Diversifikasi usahatani kopi dan kakao. Banyuasin, Indonesia : Pusat Penelitian Karet.
Sukmawati, W., Arkema, Y., & Maarif, S. (2014). Inovasi sistem agroforestry dalam meningkatkan produktivitas karet alam. Jurnal Teknik Industri, 4(1), 1411–6340.
Snoeck, D., Lacote, R., Kéli, J., Doumbia, A., Chapuset, T., Jagoret, P., & Gohet, É. (2013). Association of hevea with other tree crops can be more profitable than hevea monocrop during first 12 years. Industrial Crops and Products, 43, 578–586. doi : org/10.1016/j.indcrop.2012.07.053.
Tistama, R., Dalimunthe, C. I., Sembiring, Y. R. V., Rahmat, I., Hastuti, R. D., & Suharsono. (2016). Tumpangsari sorgum dan kedelai untuk mendukung produktivitas lahan TBM karet (Hevea brasiliensis Muell Arg). Jurnal Penelitian Karet, 34(1), 61–76.
Ulfah, D., Thamrin, A. R., & Natanael, T. W. (2015). Pengaruh waktu penyadapan dan umur tanaman karet terhadap produksi lateks. Jurnal Hutan Tropis, 3(3), 247–252.
Putranto, R.A., Herlinawati, E., Rio, M., Leclercq J., Piyatrakul P., Gohet E.,. … Muntoro P. (2015). Involvement of ethylene in latex metabolism and tapping panel dryness on Hevea brasiliensis. International Journal of Molecular Sciences, 16, 17885–17908.
Wulan, Y. C., Budidarsono., & Joshi, L. (2006, Desember 12 -15). Economic analysis of improved smallholder rubber agroforestry systems in west kalimantan, indonesia - implications for rubber development. Tulisan disajikan pada Sustainable Sloping Lands and Watershed Management Conference. Luang Prabang.
Xianhai, Z., Mingdao, C., & Weifu, L. (2012). Improving planting pattern for intercropping in the whole production span of rubber tree. African Journal of Biotechnology, 8484-8490.
Yang, B., Meng, X., Zhu, X., Zakari, S., Singh, A. K., Bibi, F., Mei, N., Song, L., & Liu, W. (2021). Coffee performs better than amomum as a candidate in the rubber agroforestry system: Insights from water relations. Agricultural Water Management, 244, 106593. doi : org/10.1016/j.agwat.2020.106593.
Xianhai, Z. (2012). Improving planting pattern for intercropping in the whole production span of rubber tree. African Journal of Biotechnology, 11(34). https://doi.org/10.5897/AJB11.3811.
Yi, Z. F., Cannon, C. H., Chen, J., Ye, C. X., & Swetnam, R. D. (2014). Developing indicators of economic value and biodiversity loss for rubber plantations in Xishuangbanna, southwest China: A case study from Menglun township. Ecological Indicators, 36, 788–797. doi : org/10.1016/j.ecolind. 2013.03.016.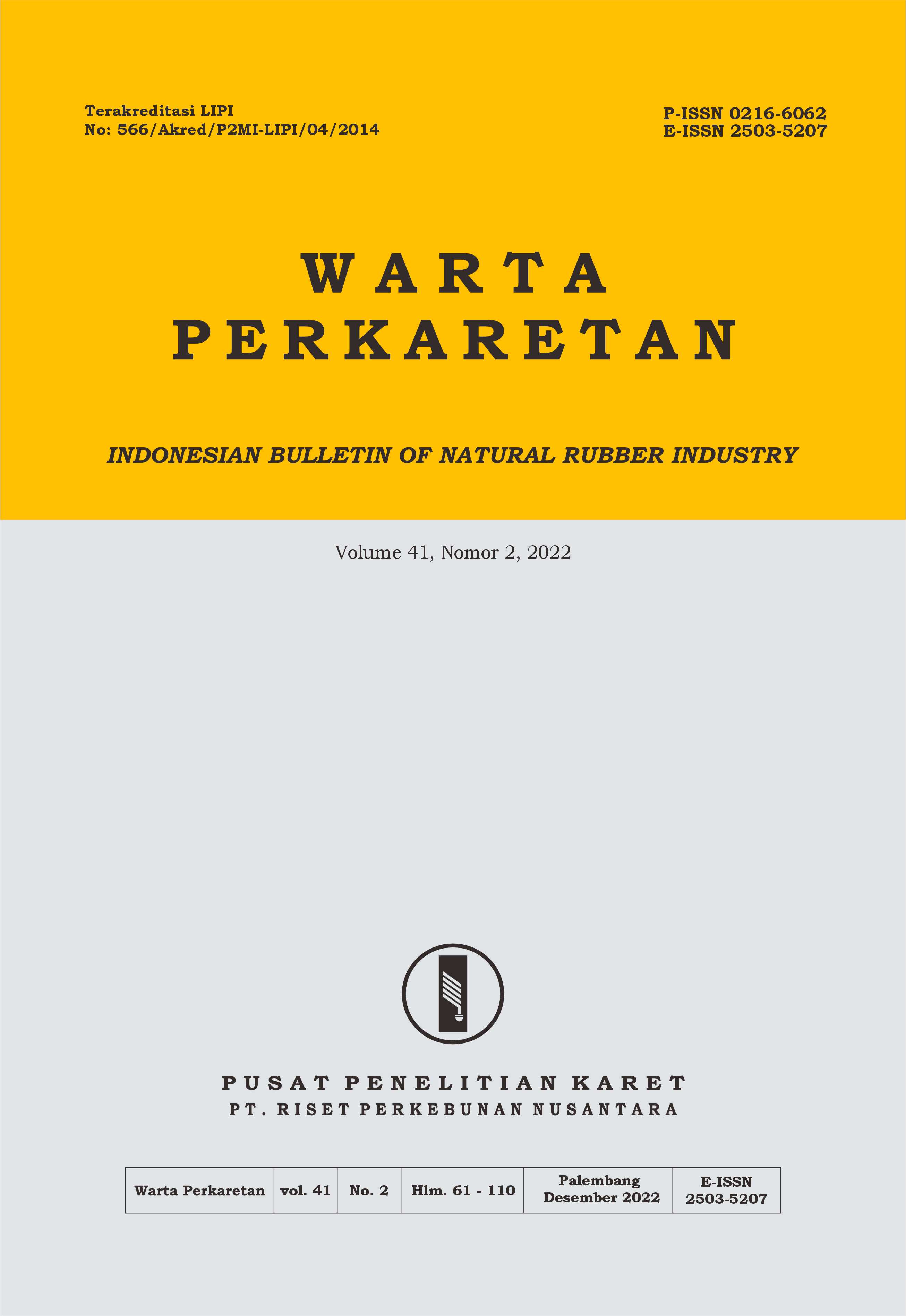 Downloads
Section
Original Research Article
License
Copyright (c) 2023 Andrea Akbar, Hajar Asywadi, Sahuri
This work is licensed under a Creative Commons Attribution-NonCommercial-ShareAlike 4.0 International License.
Submission of a original research or review articles in Warta Perkaretan implies that the submitted  manuscript has not been published in any scientific journal (except being part of the abstract, thesis, or report). The submitted manuscript also is not under consideration for publication elsewhere. All co-authors involve in the publication of the manuscript should give their approval. Once, the manuscript is accepted and then published in Warta Perkaretan, the Author(s) keep hold the copyright and retain publishing right without restrictions. Author(s) and Warta Perkaretan users are allowed to multiply the published manuscript as long as not for commercial purposes. The journal users are also permissible to share the published manuscript with an acknowledgement to the Author(s). The Editorial Boards suggest that the Authors should manage patent before publishing their new inventions.