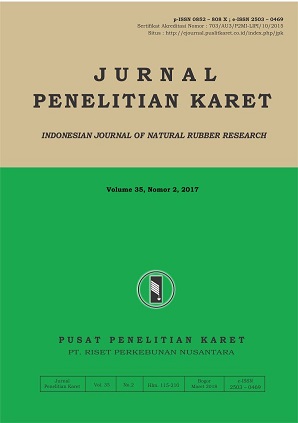 JURNAL PENELITIAN KARET
 (
Indonesian Journal of Natural Rubber Research
, p-ISSN : 0852-808X ; e-ISSN : 2503-0469) is accreditate national scientific journal published by Pusat Penelitian Karet (
Indonesian Rubber Research Institute
)
– PT. Riset Perkebunan Nusantara, based in Jalan Salak Nomor 1 Bogor 16151 West Java Indonesia. The objective of the journal is to disseminate the innovation of rubber research to researcher, practitioner and user of information in general. Authors constribute on the publication of Jurnal Penelitian Karet are coming from Indonesian Rubber Research Institute and its subsidiary research center and also other research and development institutes, government agencies, universities, associations, and industries.
Announcements
Sertifikat

 

 

 

 

 

Posted: 2018-08-20

Call for Paper

Call for Paper to Jurnal Penelitian Karet

Jurnal Penelitian Karet (Indonesian Journal of Natural Rubber Research, p-ISSN : 0852-808X, e-ISSN : 2503-0469) publishs peer-reviewed original research articles on all aspect of natural rubber research and development. Jurnal Penelitian Karet is published by Pusat Penelitian Karet (Indonesian Rubber Research Institute) – PT. Riset Perkebunan Nusantara. The journal has been accreditated by Indonesia Science Institute (LIPI) based on Certificate of accreditation Number 703/AU3/P2MI-LIPI/10/2015 and Decree Number 1215/E/2015 dated on 30 October 2015. The journal provides open access publication system and it is indexed by Indonesian Scientific Journal Database (ISJD) and Google Scholar (h index = 4).

The Editorial Board of Jurnal Penelitian Karet invite researchers, academicians, practisioners,  and rubber stakeholders in general  from any institutions to submit their  original research articles focusing on natural rubber to Jurnal Penelitian Karet. The Editorial Board comitt that it would be no delay on publication. Jurnal Penelitian Karet is  published on June and October  every  year.




Posted: 2016-06-09
More...
JPK : Volume 37, Nomor 1, Tahun 2019
Untuk diterbitkan pada Juni 2019
Table of Contents
Original Research Article
| | | |
| --- | --- | --- |
| | Norma Arisanti Kinasih, Adi Cifriadi, Thomas Wijaya | |
| | | |
| --- | --- | --- |
| | Woro Andriani, Adi Cifriadi, Santi Puspitasari | |